Our Honeymoon
Twelve days in French Polynesia spread over three islands
In an effort to share and document what we experienced throughout our trip, we have created a day-by-day journal, pictures included, of our unforgettable Honeymoon in paradise. Please click on the day icons above. We hope you enjoy.
~ Introduction ~
We were married on Saturday August 23rd, 2003. Three days later, on Tuesday August 26th, we were off on our honeymoon to French Polynesia. It was truly the best twelve days of our lives.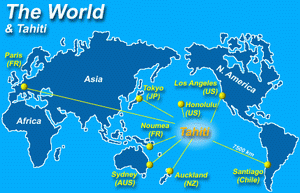 For those of you who are unfamiliar with French Polynesia, here are some details. French Polynesia is a 7 1/2 hour flight direct from Los Angeles. It shares the same time zone as Hawaii, but is much further south, just below the equator in the Southern Hemisphere. Because it is south of the equator, the seasons are reversed and so is the direction of draining water in the sink and toilet (we made sure to take special note of that fact almost everyday). August falls right in their winter season which is one of the best months of the year to visit because it has the least amount of rainfall.
Traveling to French Polynesia, we had to fly Air Tahiti Nui direct to Tahiti, which is French Polynesia's largest and most inhabited island. Total population of French Polynesia is 220,000 of which 150,000 of them reside in Tahiti. The capital city is called Papeete (Pah-pay-ay-tay) and the Tahiti International airport is called Faaa (Fah-ah-ah). There are inter-island airlines such as Air Tahiti and Air Moorea that we used to fly in and around French Polynesia.
French Polynesia is comprised of five archipelagos - the Society, Austral, Marquesas, Gambier Islands, and the Tuamotu Atolls. An atoll is a coral island consisting of a reef surrounding a lagoon.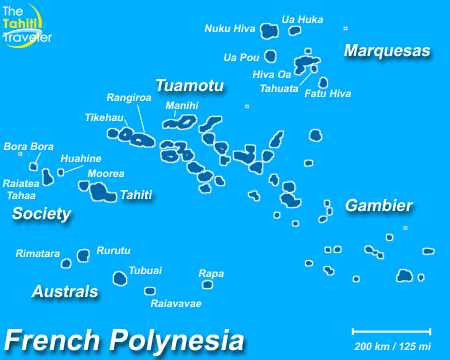 Our Honeymoon started in Moorea for three days, then we stayed in Manihi for four days, and finally we ended in Bora Bora. The following was taken from our Wedding Wed-site:
Island #1 - Moorea


Details:

Only a ten minute flight from Tahiti, Moorea is known for it's lush mountain slopes covered with rain forest and it's white sand beaches bordering crystalline lagoons.

We'll be arriving here first and will stay for three nights at the Intercontinental Beachcomber Resort in a beach suite bungalow.

Island #2 - Manihi


Details:

Manihi is an atoll 312 miles northeast of Tahiti (an hour and a half flight). Well known for it's diving, Manihi has a clear lagoon, which is 3 1/2 miles wide by 19 miles long. The Tairapa Pass, which connects the ocean to the lagoon, is an exhilarating drift dive that ends up in the lagoon of manta rays.

We'll be staying at the Manihi Pearl Beach Resort in an overwater bungalow

Island #3 - Bora Bora

Details:

Only a 45 minute flight from Tahiti, Bora Bora will be the pinnacle of our honeymoon vacation. Unquestionably our most sought after destination, Bora Bora is known as one of the world's most romantic islands. Bora Bora is almost completely encircled by offshore islets and reefs, with only one narrow pass to the open sea, creating a magnificent lagoon of infinite depths and color. From the air, the view of Bora Bora has been compared to that of "a tiny emerald in a setting of turquoise, encircled by a sheltering necklace of sparkling pearls".

We'll be staying at the Bora Bora Pearl Beach Resort for five nights in a premium overwater bungalow. It is located on the island Motu Tevairoa, which has a stunning view of the main island.