Le Cirque, Bellagio's signature restaurant. Described as a "glittering jewel box of color and detail, from the dramatic, star-studded entry to the sumptuous silk-tented ceiling. Murals by Paulin Paris surround the room, in homage to the original Le Cirque monkey murals." The moment we stepped inside the restaurant, we were both whisked away to a different world. The murals on the walls were so colorful and the furniture blended into the circus theme along with the silk ceiling. The Maitre D', greeted us at the entranceway, and since we were early, guided us over to sit at the bar to have a drink. As Cheryll turned to walk towards the bar, Jeff made eye contact with the Maitre D' and in his head saying, "Yes, it's me, we spoke a few days ago, I'm the one with the dessert menu!" The Maitre D' winked acknowledging Jeff's suspicious glance. We had our picture taken by a really nice older man sitting at the bar by himself, who was also celebrating his birthday and waiting for his daughter who shared the same birthday as well. He asked us what special occasion we were celebrating, Jeff said, "Oh it's her birthday", not wanting to spoil anything else knowing that within a few hours he was going to be proposing right before dessert.
As we got our first round of drinks, the Maitre D' came over, told us our table was ready, and lead us into the beautiful dining room, which was even more beautiful than the entranceway/bar room. We were sat at a comfortable booth with a great view of the entire restaurant and the windows that showcased the Bellagio fountains dancing to the music playing outside the hotel. The dinner menus were presented to us and we both decided on the three-course meal, which included appetizer, entrée, and choice of dessert for $75 per person. We were tempted by the six-course meal ($195 per person) that included a different glass of wine with each dish, but we both agreed we wanted to remember the evening, the food, and the occasion, rather than the potentially drunk alternative. Just shortly after ordering, Jeff excused himself to the bathroom. Instead, Jeff, in secret met with the Maitre D', unrolled the sheet of paper that was hidden away in his jacket pocket, and handed it over. "Here it is Fabrise, thanks for your help", Jeff said and quickly returned back to the booth. Cheryll had no idea that one simple question, "Jeff, where is the bathroom?" would have made for quite a difficult answer to someone who should have gone to the restroom but didn't.
First course. For Cheryll it was the Salade de Homard "Le Cirque", a Lobster Salad with Truffle Dressing. For Jeff, the Foie Gras Poêlé aux Cerises et Polenta Grillée, a Sautéed Foie Gras with Sour Cherries, Amaretto Polenta and Micro Greens. The first bite we each took resulted in melted looks of ecstasy on our faces. Assisting one another with a taste of the other's appetizer, we each smiled with wide-eyes in amazing approval of how good the food was.
Main course. For Cheryll it was the Paupiette D'omble Chevalier aux Poireaux Sauce Vin Rouge, Filet of Arctic Char in Crispy Potato Crust with Braised Leeks and Merlot Sauce. For Jeff, the Coeur de Filet Mignon "Rossini" Sauce Bordelaise, Roasted Beef Tenderloin "New Rossini" with Foie Gras, Confit Shallots, Vegetable Gratin and Bordelaise Sauce. The entrée's were excellent and well prepared, and we both agreed that this place was, in the language of cousin Robby, the bomb-diggity. Cheryll mentioned a few times how perfect the dinner was, the ambience, the wine, the colors, decoration, and especially the company. One other thing she mentioned was that she would like to get the soufflé, having noticed the couple next to us get their dessert and the lady indulging in chocolate heaven.
Well the time had come, the dinner plates were cleared away, and the Maitre D' personally delivered the dessert menus. One he glanced at briefly, then smiled, and gave to Cheryll and the other he handed to Jeff. The dessert menus were white cardboard bound folders that had the Le Cirque logo at the bottom of the front cover. Cheryll, for a few moments, admired the front cover and then opened up to read the desserts. "Now I really want that soufflé, do you see it babe?" "Huh?" Jeff replied. "I don't see it, do you?" Cheryll asked as she peered over at Jeff's menu. "Hey your menu looks different from mine!" Jeff casually leaned away so that Cheryll could not read his menu anymore, he replied "No it's not..." although his menu did have an extra page that listed ports and after dinner drinks, purposely left out so that Cheryll's full attention would be on the desserts. Cheryll seemed to be skimming the French desserts with English translated descriptions quite hastily looking for the soufflé, knowing that the woman who just left with her date had just finished one for dessert. "...Well, just keep looking maybe there's something else you might like, but I'm sure it's there", Jeff spoke up a little more. The entire time the Maitre D' stood at the table smiling and wondering when Cheryll would get it, as did Jeff. Finally Cheryll started to read the English descriptions of the desserts more carefully, coming across items that read "White Chocolate Cake with Wedding Coconut, Red Coulis and Mixed Bridal Berry Sorbet", "Vanilla and Lemongrass Parfait with a Forever Yours Rhubarb Fruit Salad" "Apricot Clafoutis with Amaretto Ice Cream and Brilliant Ring of Almond Sauce", and "Upside Down Warm Engagement Chocolate Cake with Vanilla Ice Cream". She laughed, "What's up with all this lovey-dovey stuff? Where's the soufflé?" And finally she read at the bottom, Le Prix? (The Price?) "A place in your heart for eternity". Jeff could tell she read that final line and upon noticing stood up, gave the camera to the Maitre D', and told Cheryll to slide over to the end of the booth so that he could talk to her as he knelt. She quickly came to realization and said, "Oh babe, is this happening?" Jeff just spoke up and told her, "I've been a fool to have waited this long. But with each year, day, hour, minute that we've been together my love has only grown stronger for you and it has made me realize more and more how much you mean to me and how much you and I mean to me. You should know by now that you have my heart and now I would like to offer you everything else that makes me, me. You complete me and I want nothing more than to be with you forever and to grow old with you. Would you do me the honor Cheryll? Will you marry me?" Of course by this time Cheryll was full of tears and as Jeff finished, she replied, "Yes, of course, baby". Jeff's eyes began filling with tears and they kissed and hugged each other tightly. The entire restaurant burst into applause and it was at that moment, Jeff reached into his breast pocket, presented the engagement ring from the red mahogany box, and slipped it onto Cheryll's finger. The restaurant continued to applaud and we kissed and hugged again. We relished the moment with each other and as patrons exited they congratulated us and gave us best wishes. After ordering our desserts, The Maitre D' returned to the table and said to Cheryll, "And this is my gift to you", handing her back the special dessert menu.
By the end of the evening, Jeff's worries were no more, Cheryll's birthday blues had subsided, the plans had completed perfectly without a hitch, and Cheryll not only received a ring, she also got her chocolate soufflé.
We returned to the Treasure Island Hotel and celebrated with a bottle of champagne.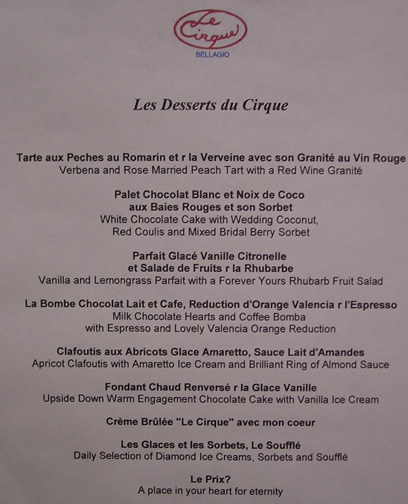 Le dessert menu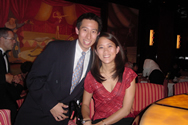 Jeff and Cheryll at Le Cirque's bar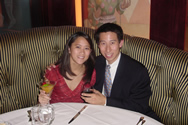 Just got seated, enjoying our drinks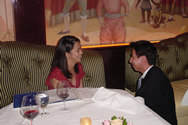 Cheryll having finally read the dessert menu and still in disbelief. Jeff on one knee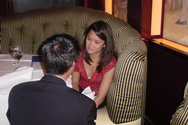 Cheryll tearful and listening intently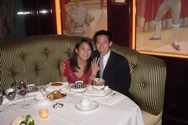 Relishing the moment and dessert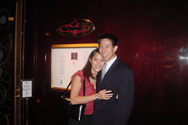 Outside Le Cirque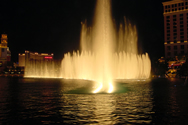 The fountains of Bellagio after dinner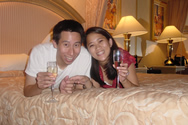 Celebrating with some bubbly