Once upon a time, a young man wanted to learn how to dance… swing dance, that is. And it just so happened that a young woman also wanted to learn how to dance. So on one evening, each of them decided to go to the "World Famous" Derby where they would take swing dance lessons and fall in love with the jitterbug. From there, both began taking Lindy Hop lessons on a weekly basis. Swing dance "classmates" became, acquaintances. Acquaintances became regular dancers. Regular dancers became friends. Friends became partners. And partners became… well, became Jeff and Cheryll!
Jeff



Bday: June 16

Currently listening to:
DJ Tiesto, In Search Of Sunrise 3

Hobbies:
Spinning, Bikram Yoga, Basketball, Running, Scuba Diving, Swing Dancing, Lifting-weights, My Home Theater System, Gaming (AOK, Halo), Burping, and Farting (in private and/or amongst friends)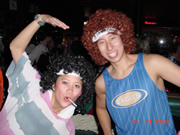 Cheryll



Bday: September 20

Currently listening to:
Soundtrack to the Lord of the Rings

Hobbies:
Going to the gym, spinning, Bikram Yoga, Scuba Diving, swing dancing, Creative Memories, collecting DVDs, yelling at Jeff for burping and farting -- especially amongst friends :) Oh, and I LOVE to travel.
Hey what's your Favorite?
Movie:
I would have to say for now it's Lord of the Rings, Fellowship of the Ring. Sorry Gladiator, you're still ranked 5 stars in my book though. Crouching Tiger is up there too.

Book:
Harry Potter and the Prisoner of Azkaban, JK Rowling
IT and The Stand, Stephen King
Timeline, Michael Crichton

TV Show:
Survivor, when it's airing
Fear Factor

Superhero:
The Mighy Heroes - Diaper Man, Rope Man, Strong Man, Tornado Man, and Cuckoo Man (eh-cuck-oo, eh-cuck-oo).

Color:
Purple for popsicles
Green for Jolly Ranchers
Sky Blue for shirts

Food:
Without a doubt - French Onion Soup, the more gruyere the better!
Also, ham and cheese omelettes

Store:
Again without a doubt - Best Buy

Drink (alcoholic):
Samuel Adams Boston Lager
Tetley's
Freddie's Ass (not literally, it's a "signature drink that Freddie at Sushi Roku makes, muy bueno)

Drink (non-alcoholic):
Coke

Band currently:
Dave Matthews Band
Jon Mayer
Incubus

Band in college:
Toad the Wet Sprocket
Stone Temple Pilots
Nine Inch Nails
Enya

Band in high school:
Peter Gabriel
U2

Band in middle school:
Tears for Fears
Bon Jovi

Band in gradeschool:
Reo speedwagon

Casino Game:
7-card stud
Craps
Pai-Gow!!!

Video Game:
PC - AOK
XBOX - HALO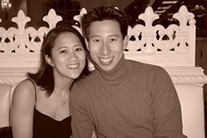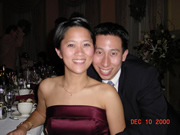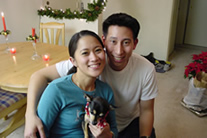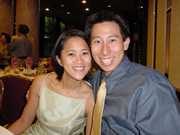 Hey what's your Favorite?
Movie:
Hmmm... there's alot to mention...but off the top of my head...here goes: For sap factor -- Far & Away, and the best chick-flick: Steel Magnolias! For bad-ass factor -- T2, Aliens. For comedy factor -- Snatch. And for best all-around -- Amadeus, Gladiator, Braveheart, Life is Beautiful, The English Patient, and LOTR.

Book:
If you asked me this when I was 13, I'd definitely say, 'Dear God, It's me Margaret'.... but I guess these days, I'd say 'The Divine Secrets of the Ya-Ya Sisterhood' and the Harry Potter series.

TV Show:
Will and Grace and Survivor

Superhero:
Wonder Twins baby!

Color:
Champagne! ok, ok... i like blue and sometimes pink too.

Food:
ICE CREAM!

Store:
Diesel

Drink (alcoholic):
Margaritas ala Sushi Roku... or ala Robby!

Drink (non-alcoholic):
Gotta be a COKE!

Band currently:
DJ Tiesto

Band in college:
STP
The Cranberries
10,000 Maniacs

Band in high school:
Depeche Mode, of course...

Band in middle school:
OMG... now we're going waaay back... Grandmaster Flash, Soulsonic Force, and maybe some Madonna.

Band in gradeschool:
Madonna fer sure.

Casino Game:
Pai Gow Poker
Craps
Blackjack

Video Game:
PC - AOK, The Sims, Diablo LOD
XBOX - Halo (tho I suck), Fusion Frenzy, DOA